Light Duty

VH-M413








Professional solution for processing small timber, furniture,




wood products, Glued laminated timber and Square board.
Model




VH-M413

Specification

Working width
25-130
Working thickness
8-100
Working table length
1155
Feeding speed
4-18
Mian spindle diameter (mm)
Φ 40
Main spindle revolution (r/min)
6000
Air pressure (Mpa)
0.6

Motor power (KW)

1st Lower Shaft
3kw/5.5HP
Right vertical spindle
3kw/4HP
Left vertical spindle
3kw/4HP
1st Upper Shaft
4kw/5.5HP
2nd Upper Shaft


2nd Lower Shaft


Feeding beam lifting
0.37kw/0.75HP
Feeding motor
2.2kw/3HP
Total power
15.57kw/21.27HP
Cutter diameter
1st Lower Shaft
Φ 125
Right Vertical spindle
Φ 125-Φ 160
Left vertical spindle
Φ 125-Φ 160
1st Upper Shaft
Φ 125-Φ 160
2nd Upper Shaft


2nd Lower Shaft


Remark
Feeding wheel diameter (mm)
Φ 123
Dust outlet diameter (mm)
Φ 125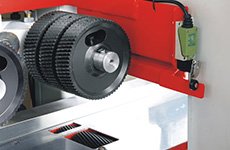 The before work table is equipped with the active feeding wheel, powerful feeding.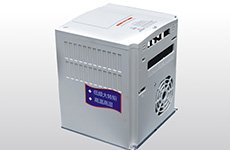 Feeding frequency inverterDigital display, easy operation, energy saving, reduction of mechanical transmission wear.

Exquisite production technology, internal precision machinery.