Choosing the right four sided planer that can prove perfect for your projects was difficult. This is due to the numerous options you will stumble upon. The benefits of choosing a suitable planer can hardly be overemphasized or ignored. These could be improved finish quality, time saving, cost-effectiveness, ease of use, enhanced safety features, and many more. Whether you are a novice or a seasoned woodworker, making the right choice can offer precision and efficiency for your work.
If you are currently having issues selecting a suitable four-sided planer, there is no need to rack your brains again. This is because you have come to the right place where everything about how to choose the best will be revealed. We will be exploring some key factors that should be considered while you are trying to decide on which one to choose for your projects.
Have you been looking for how to upgrade your equipment? Are you planning to purchase a four sided planer for the first time? We will be covering everything that needs to be known. Without any further delay, let's get into the main details of this post.
▷ Capacity And Size
This is the first factor you need to take into consideration. In other words, the machine's size is of great importance thus, should never be ignored. Before you can get this right, there are certain questions that need to be answered. For instance, you need to know the size of such wood. If possible, have a background knowledge about the wood type too. It is not enough to only know that a four-sided planer can be used to give wood boards shape or make them smooth.
In addition to such, you need to know more about the size of such wood. As simple as this may sound, it can help you choose the ideal planer. For wood pieces that are larger in terms of size, it is mostly recommended to go for a planer with thicker higher capacity. Conversely, smaller wood pieces will require any of those planers with smaller capacities.
Talking about a planer's capacity, we simply imply how wood can be smoothened at once. While some planers are limited in this aspect, others can do a great job. In case, your project is large, it is much better to go for a four-sided planer with high capacity. This can bring about higher productivity and efficiency.
▷ Consider Its Power
This is one of those factors that most woodworkers don't take seriously. They eventually become frustrated since their projects cannot be completed. The bottom line is that you should never overlook the "power rating" of such machine. This is because you may end up spending money on the wrong option. It is recommended to find a planer with very high horse power rating. It should range from 3-5. With this, heavy-duty projects can be handled efficiently.
Furthermore, choose from planers that have variation with regards to speed control. This can enable you make several adjustments based on the materials which is being planed. There are two reasons why speed control is crucial. For instance, it could be that your project requires different wood pieces to be planed. Secondly, probably you want a unique or specific finish for various wood pieces. The right speed variation can help you achieve all of these.
Overall, it is highly recommended to search for a planer with the right motor power to handle your projects without any compromise. This makes your job much easier.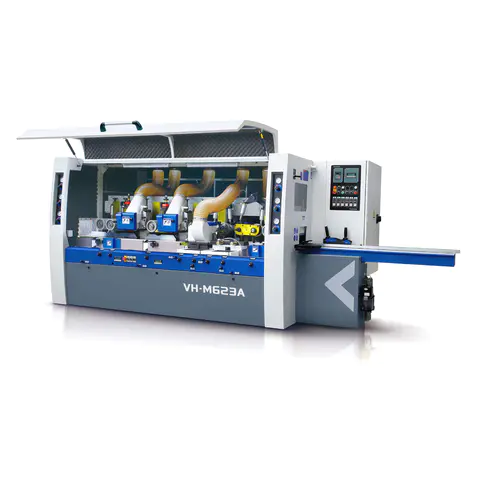 ▷ Check Out The CutterHead Design
This is another key factor that must be taken into consideration while you are trying to choose the right four sided planer for your projects. The cutterhead usually has various blades which rotate at very high speed. With the right cutterhead design, material removal process is precise as well as efficient. This makes the finish to be smooth. With such design, cutting blades will align properly. The planning process won't experience any kind of tear-out or chatter.
Cutterheads are usually of two categories. These are helical cutterheads and straight knife cutterheads. It is important you know the pros and cons of both. This helps to ensure you are making the right decisions. For instance, straight knife cutterheads have always been known to be highly affordable. However, note that the surfaces of your wood can have some marks after the planing process is completed.
Helical cutterheads are different. This is because they tend to provide a much smoother finish. This is due to how they make use of different small blades to cut wood fibres. They are expensive though. The most important thing is to find a cutterhead design that is ideal for your woodwork project. If your budget is tight, straight knife cutterheads are great. However, if you want a finish that is precise, helical cutterheads are better.
▷ Consider Number of knives
It is not enough to choose a planer based on the factors revealed above. In addition to such, you need to also find out how many knives it has. In most cases, planers have 2 or 3 knives. 2 knife planers aren't a bad option given the outcome they will deliver. A 3-knife planer can deliver finishes that are more precise though. The more knives a planer has been built with, the better its finished projects will look. If you are still confused on this aspect, it is recommended to ask the seller you are dealing with for more explanation.
Just remember that the more knives a planer has, the better for your project. This is because each knife will be handling different wood materials. The cut will be finer and better as compared to a planer with few knives. Again, if such is a DIY project, it isn't a big deal if you go for a planer with two knives.
However, if you are cutting or smoothening wood pieces for commercial purposes, always go for something that has more knives. This will ensure your clients are having great value for money spent. This is because it will produce a much better finish.
▷ Consider the Feed Rate
It is quite shocking to know that many people usually don't pay attention to this aspect while planning to purchase a four sided planer. Feed rate simply implies the rate at which wood will be moving through a planer. If you don't know, the quality of your wood can be affected by the feed rate. For instance, a high feed rate implies that materials can be removed quickly which saves time. However, the finishing might not be smooth as expected.
Conversely, a slow feed rate requires time for the planer to complete your projects. However, its finishing will be smooth. If you prefer speed to quality, opt for a planer that has high feed rating. On the other hand, if you want such project to have quality finishing, it is recommended to choose a planer that has low feed rating.
This is based on your priorities for every planing project. Whatever the case may be, it is highly recommended to always have in-depth knowledge about the planer's feed rate you plan to purchase. This gives you an edge over others who might also be planning to purchase such machine.
▷ Checking Out Customer Reviews
In today's world, every company producing planers is claiming to deliver the best product in the market. Believing such claim is a big joke because you could end up getting burnt. Trying to purchase a four sided planer without checking out what other people are saying about its features is like taking shots in the dark. This is the easiest way to spend money without getting value in return.
For instance, you need to know what people are saying about its features. These could be in the aspect of its dust collection system, ease of blade changing, noise level, overload protection, and many more. It is true that you can get helpful information from the manufacturers and sellers of these planers. However, take a step further to find out more from end-users.
If it's not good enough in any area, you can know through their unbiased reviews. As simple as this may sound, it has helped many people save money in the past. Just get the model or name of the four-sided planer you plan to purchase and do some research online. You will be amazed at the information available about such item. This helps you to make a smart buying decision.
Final Thoughts On How To Choose The Best Four-Sided Planer
Having seen all of the above, it is clear that when it comes to choosing the right four sided planer, there are numerous factors to take into consideration. These could be variables like size and capacity, feed rating, power rating, customer reviews, cutterhead design, and others. Ignoring any of these can imply making the wrong decision. This can negatively affect your project's outcome. It is also crucial to take the size of your budget into consideration while trying to make a choice.
21 series 4 Side Planer Machine
23 series 4 Sided Planer Moulder