Using old-fashioned machinery and not getting your desired results is a nuisance. Not only is it time-consuming, but it's also extra work and a burden. If you are living in this modern era and still using old machinery to cut your wood, you are surely outdated! But don't worry. You still got time to update! It's very important to upgrade yourself and your machinery from time to time. Enhancing your workstyle will not only help you in producing more but will also help in reducing human workload. In addition to this, it will also help you adapt to new styles and designs.

V-Hold Machinery makes sure to provide quality products that help their customers improve their workstyle by upgrading it. In this article, we will provide you with a complete guide about the professional woodworking machinery we produce, their features, and some of the things that you should keep in mind before buying any machinery.
Why Professional Woodworking Machinery?
For a woodworker, having professional woodworking machinery is very important. This is because these machines are specially built to make woodworking more manageable and more efficient. From small craft shops to factories, they are found everywhere woodworking is concerned. Here are a few reasons why professional woodworking machinery must be a part of your workspace,
▪

Accuracy and Precision
Specialized machines are built in a way that they operate with accuracy and give precise results. This is essential because even a slight variation in accuracy or precision can ruin the final results.
▪

Productivity
Since these woodworking machines are more efficient, they can help in completing larger volumes of work in a shorter time span. This improves work productivity and efficiency.
▪

Durability
Professional machinery is made out of high-quality material which can undergo rough circumstances like continuous work. The durability of these machines decreases long-term costs.
▪

Creativity
Advanced machinery enables woodworkers to perform advanced tasks efficiently. This can include working on intricate details and patterns without difficulty.
▪

Adaptability
Working with professional woodworking machinery opens doors toward more adaptability. Workers with access to professional machinery can quickly adapt to market changes and customer preferences.
Things To Consider While Choosing The Best Woodworking Machinery
There are various things that you must bear in mind while choosing the best woodworking machinery. This is because the type of machinery you select plays a vital role in the outcome of the final product. Here's a list of things you must consider before making a purchase.
•

Woodworking Type
There are several types of woodworking tasks. They range from cutting and shaping to finalising the main product. Therefore, it is essential to know the kind of work the machine will have to perform in order to make the right purchase.
•

Type of Machine
You must know the type of machine you require keeping in mind your work type and workspace. Different types of machines include vertical moulders, double side planner, multi/single rip saws, and many more.
•

Dust Collection System
It is crucial that the woodworking machine has a dust collection and ventilation system. This is because woodworking gives birth to a lot of dust. A proper dust collection system will prevent this and keep the environment clean.
•

Safety Features
While working, safety must be given high importance. Before buying a woodworking machine, make sure it has noticeable safety features. These can include blade guards, stop buttons in case of urgency, etc.
•

Maintenance Requirements
Choose a woodworking machine that is easy to maintain and does not become a burden in the long run. A machine that has parts that can be easily cleaned will be a great choice!
•

Easy-To-Use Features
Having a machine that is highly user-friendly can increase the efficiency of work. Since it is easy to use and adjustable, workers can do work more productively and quickly.
V-Hold Machinery - Is It Legit?
Having been in the game since 1996, V-Hold Machinery has made a significant name in the woodworking industry. We are the leading Chinese Woodworking Machinery manufacturer and have a solid customer base across the globe. We have received several certifications, including:
❖ European Union CE Certification,
❖ German TUV Safety Certification,
❖ ISO9001: 2000 Quality System Certification
Talking about quality, our woodworking products are not only reliable, but they are also safe to use. V-hold Machinery takes pride in providing its customers with excellent and high-quality products. Our machines are eco-friendly, budget-friendly, and easy to use. Our main selling products are 4 sided planer, double sided planer, double end tenoner, multi rip saw.
Product Highlights - Woodworking Machinery Available At V-Hold Machinery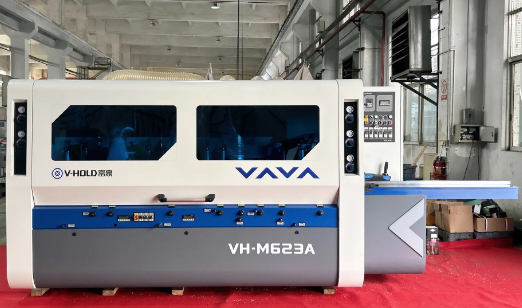 VH-M626V is a model that comes with four side moulder. Here are a few of its features,
● This model is very user-friendly since it comes with a scram switch and a feeder switch. This makes it easy to adjust and operate.
● It has a very efficient dust collection system which keeps the environment safe and clean. This also helps in keeping the finished goods tidy and dentless.
● The products that come out of this model have a smooth surface as it contains a stable-worked shaft.
● The cutting gearbox is weight-resistant and can easily work with heavy pieces.
● The motor has a total power of 55.12kw/75HP.
VH-MB2032 comes with an attached flat knife shaft which makes working easier. Furthermore, here's a list of some more features
● The working width of this model is 320mm.
● The feeding device comes with a clutch which makes working operations safe and helps avert overload.
● In case of overload, the alarm system present in the model gives a warning.
● To ensure safe working, there is a presence of an emergency button.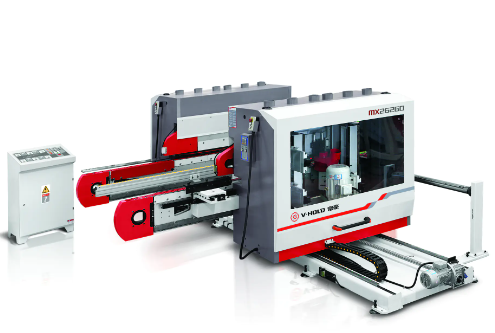 MX2626 is a double-end tenoner with an electrical lift. In addition to this, the feature set also includes the following,
● This model is known for its precision and accuracy owing to its guide rails that are made out of rigid material.
● There is a cleaning brush which is built in. This helps in keeping the machine clean.
● The operations are smooth due to the presence of a frequency conversion device.
● This model is highly stable as the cutters are placed near the pressing belt.
Conclusion
Professional woodworking machinery really impacts the final outcome of a product. They help in crafting intricate details and make the process smooth. This is not it. They also make the production process more efficient and reduce the workload of labourers to a great extent. It is about time you upgrade to the latest woodworking machinery and say goodbye to time-consuming woodworking practices! So, are you ready to take your woodworking game to a whole new level? V-Hold Machinery is just a call away! Call us now at 0757-27755123 to make your production process easier and faster.