If you have to survive in the woodworking industry and the modernizing world, you have to keep updating your lifestyle and your work style. If you are still using old tools for your woodwork, such as a saw, axe, and spade, you definitely need an upgrade. Working with your old tools is not only time-consuming, but it also reduces the rate of production. In addition to this, traditional tools are quite unsafe since they are not certified. On the other hand, the accuracy, perfection, and reliability you need in your work can also not be achieved through traditional tools.

Well, you don't need to worry when V-Hold Machinery is here to help you upgrade your work style with its advanced, reliable, and safe woodworking machinery. Our wood moulding machines are not just easy to use but are budget-friendly too. Moreover, they'll help you in producing more in less time. So, give this article a read to figure out the importance of wood moulding machines and the things to consider before investing in one!
Why Wood Moulding Machine?
Wood moulding is immensely important when you want to produce pieces with intricate designs. This enhances the overall look and makes the finished product look aesthetically appealing to the eye. Using a wood moulding machine not only makes the process faster but also adds to the process's smoothness. This is not it! Wood Moulding Machines can undoubtedly help you win an edge over your competitors with the unique designs they can produce. Here are a few reasons why you must invest in a professional wood moulding machine:
▪
Access To Diversified Designs
The invention of wood moulding machines has made crafting challenging and diversified designs easy and quick. They are great when it comes to creating different designs, shapes, and patterns, which are otherwise more complicated and more time-consuming when done manually by a human.
▪
Precision
Wood moulding machines are highly accurate and precise. They ensure that the products are uniform in size and shape. This helps in maintaining the quality of products.
▪
Saves Time
Creating details and complex designs consumes a lot of time. Wood moulding machines speed up the process and increase the level of productivity simultaneously.
▪
Replication of Product
In industries where similar products are required in bulk, wood moulding machines are a great support. This is because they can easily replicate products once the design is fed into their system.
▪
Customisation
Wood pieces can easily be customised with the help of wood moulding machines. This feature allows you to cater to your customer's demands and requests efficiently.
▪
Little To No Errors
Crafting products out of wood manually might result in a few errors here and there. To avoid this, professional woodworking machines can be used. They help in minimizing errors to a great extent.
Things To Consider While Choosing The Best Wood Moulding Machine
Before getting your hands on professional wood moulding machines, you must ensure that the machine meets the following criteria,
▪
Size Of The Machine
Firstly, you must bear in mind the size of the mouldings you will be producing and the available capacity in your workspace. Once you are aware of these two things, you can get a machine that fulfills your requirements and does not overcrowd your workspace.
▪
Versatility
Some machines have an option to change the cutter head, which enables it to produce different styles and designs. Therefore, get a machine that can craft various designs instead of repeating the same one.
▪
Accuracy And Precision
One of the most important factors while choosing a wood moulding machine is accuracy and precision. This helps in creating intricate and complex designs with ease. This, in turn, helps in maintaining the highest quality of work.
▪
Power Of The Machine
In order to get efficient production results, the machine must have high power. The higher the power of the machine, the more the ability to cut harder or thicker material.
▪
Speed Control Option
Speed control plays a vital role when you are working with different types of wood. For example, whether you are working with a thicker species of wood or a thinner species, you will have to adjust the speed of the machine accordingly for efficient cutting.
▪
Feed Rate Control Option
The feed rate maintains the speed at which the material is passed through the machine. A machine with an option for feed rate control is beneficial when you want to achieve precise cuts and designs.
V-Hold Machinery - Why Choose Us?
V-Hold Machinery is one of the top Chinese Woodworking Machine manufacturers. We have been a part of the woodworking industry since 1996 and have a very significant experience. Being a certified woodworking machinery manufacturer, we take pride in selling high-quality machines, including our famous and main selling products: 4-sided planer, double-sided planer, double-end tenoner, and multi-rip saws. Keeping our customers as a first priority, we manufacture machines that are safe and reliable with user-friendly features.
Product Highlights - Wood Moulding Machines Available At V-Hold Machinery
1.
4 Side Moulder
With Pneumatic Compression System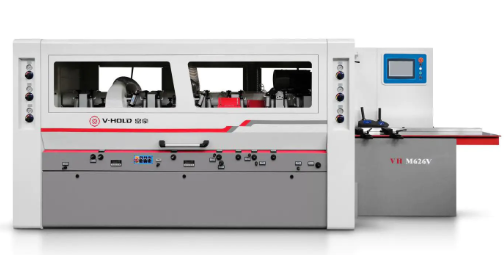 VH-626V is a 4-sided moulder that works efficiently when moudling wood. Mentioned below are a few of its best features,
● The motor has a total power of 71.3kw/97HP.
● It has a pneumatic compression system which helps keep the material stable and increases accuracy and precision.
● There is a dual-feeding system which ensures the smoothness.

V-Hold Machinery's 4-Sided Planer Moulder, VH-M623V, comes with the following features,
● This model comes with an electric lift shaft that ensures precise movement of the material.
● It is easy to maintain since it has a central lubrication system.
● It has a PLC system, which makes it easy to operate. This gives the workers remote access and minimizes errors.
3.
4
Side Planer Moulder
With Adjustable Front And Rear Press Plate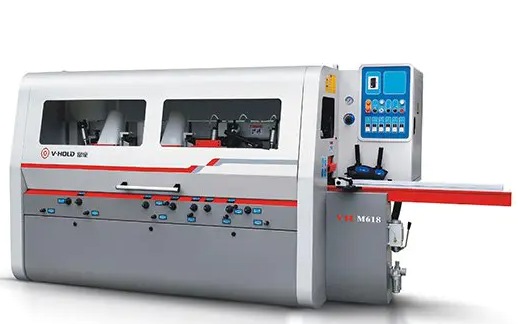 This 18 Series Planer Moulder is an excellent machine for working with soft wood strips. It offers the following features,
● It works in a vertical direction due to the presence of spindles on the left and right.
● The front and rear plates can be easily adjusted, and this helps in securing the material on the table.
● There is a chainless transmission system that makes this model durable and easy to maintain.
Conclusion
In short, if you are a woodworker looking to create intricate patterns and designs, you must invest in a good and reliable wood moulding machine. Since these machines have the ability to craft various patterns, you can also meet your customer requirements quickly and get an edge over your competitors. These machines will not only reduce the workload on your workers but will also help you produce more goods in a shorter span of time. So, are you ready to create stunning designs and patterns? Wait no more; V-Hold Machinery is here to make your higher and better production dream come true! Explore our website to get the most suitable wood moulding machine. If you require further assistance, feel free to call us at 0757-27755123.