As the world has modernized there are a lot of machines invented day by day. In the past, a woodworker just had hand machines. It takes a lot of days to complete a single and easy task. He has to cut, plane, and mold the wood in the desired shape with hand tools. And when it comes to commercial building flooring, cutting wood, window frames, and furniture parts his work is more and more difficult. It takes months to complete the task. A woodworker's work was very hard and time-consuming. Now all these things of the past. With the invention of machines, there are a lot of machines come onto the market that make work easy and efficient. In this article, we provide the best solution to all the needs of woodworkers. A 4 sided planer molder machine is one of these. So let's start with why we prefer molding machines.
A 4 sided planer molder is a machine that can plane and mold four sides of wood in one go. You can plane and mold the wood within minutes. You can use this machine in planning, flooring, and molding wood. This modern machine is designed to smooth and cut the wood to get the desired product. Here are some of the benefits you can get while using four-sided planer molder machines.
▪
Control Over Thickness
You can get complete control over the thickness of the wood you are working on. With the help of this, you can get accurate measurement pieces and you can finish a project easily without any flaws.
▪
Saves Time and Effort
The whole process of smoothing and molding the wood is automated with the use of a four-sided planer molder. As a result, it saves time and effort.
▪
Continues Plane Wooden Surface
Four-sided planer molder machines work on all sides of the wood at one time. It enhances the beauty of the overall look of the final product.
Things to Keep in Mind While Choosing a Right 4 Sided Planer Molder
To save your time we suggest some things to keep in mind when choosing a 4 sided planer molder. Let's discuss all;
1. Cost Affective and Lifetime
A good wood molding machine is built in a way that it does not feel heavy on your pocket. Moreover, it doesn't need precise repairs and its components are of good quality. In short, it must be low in cost and lifetime investment.
2. How much Capacity and Size it can handle
It must consider how much breadth and density it can handle easily. Evaluate if the machine can work on the size of your workpieces.
3. Check the Overall Strength of the Machine
For better work check the engine power and motor durability. High-power engine machines can work easily on your large or heavy wooden pieces.
4. Easy to Operate and Security Features
It must be easy to operate. Prefer a machine that has easy-to-manage and adjustable cutting knives. It saves your time and needs less maintenance. Moreover, consider a machine that has security features like an emergency stop button, security shields, and dust collection mechanism so that the machine can work properly. Considering all these factors can make your selection easy and save you from regret in the future.
V-HOLD 4 Sided Planer Molder-Is it Legit
V-HOLD is a famous woodworking machinery manufacturer in China. We are not only a manufacturing company but also research to add new features to machinery. With 20 years of production experience, we offer cost-effective, safe, easy-to-operate, powerful engine machines. All our products including the four-sided planer molder have passed ISO 9001:2000 certification for quality systems, safety Certification of German TUV, and CE certification of the European Union. We also have achieved the title of " Famous Brand Of Guangdong Province".
Product Highlights - 4 Sided Planer Molder Available Models at V-HOLD
We have various types of planer molders at V-HOLD. Let's discuss all the unique features one by one;
V-HOLD M521GH four-sided planer molder has all the features that a professional woodworker needs. Some of its unique features are:
● It is a high-speed molder with a great product automatic delivery mechanism. You just need to put in the timber and all the work done by the machine.
● It has the highest feeding system of 60m/min.
● It provides the solution of planning and molding large quantities of timber continuously.
● It has a separate side feeding system fitted into the feeding table. This ensures continuous work with high speed which enhances productivity in a short time.
● V-HOLD four-sided planer moulder has an L conveyor that also speeds up the process of planning and molding wood.
● A gear case is fitted in it so that the machine can work on short pieces continuously.
● It has an adjustable speed mechanism.
● It has five spindles and a 210mm maximum working width.
● It can process large amounts of finger joint wood and short pieces.
It is also a good choice for molding and cutting wood into pieces. Here are some of its features;
● This machine is specially designed for slicing and cross-cutting wood.
● V-HOLD combines a four-sided molder and multi-rip saw to improve the efficiency and working time of the machine.
● It works on sauna board, wall hanging wood board, antiriot wood, shuttered windows, and other pieces of wood.
● Customers can decide the number of saw blades they need in the machine.
● It has an automated cleaning and cooling system for the shaft. It enhances productivity and the machine can work properly.
● It also has a gear case for short pieces.
● It has an anti-returning system that ensures the safety of the user.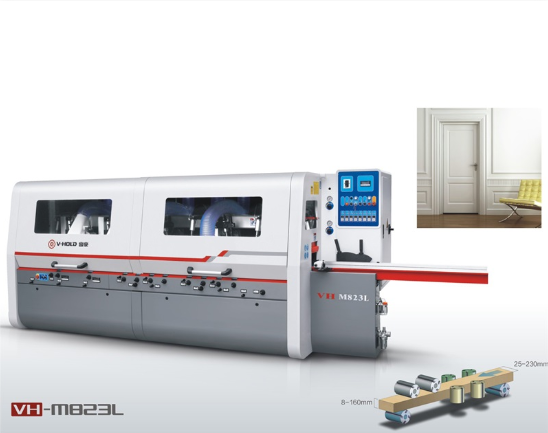 This type of four-sided planer molder is specifically made for large pieces. It is usually used for American-style doors and frameworks. Its key features are;
● It has the option to change the cutter easily and fastly.
● Its feeding speed is 6-36m / min.
● It has a feed frequency converter that has a digital display of frequency conversion. It is easy to operate, saves energy, and lessens mechanical variable power.
● It has a system of fast hatchable short material that is used to operate the short pieces precisely.
● To ensure the smoothness of the final product each shaft bearing is imported by SKF and attached in air conditioned room.
● The pressure can be adjusted by front and back press.
● It has a strong cutting gearbox which ensures smooth feeding, transmission, and continuous feeding no matter how large piece machine is working.
● All tools are equipped perfectly and move freely for the convenience of users.
Final Words
In short, a four-sided planer molder is a need for modern woodwork and woodworkers. It smooths, cuts, and molds wood according to the requirements. Moreover, it increases the productivity and efficiency of the whole process. Additionally, our different models have unique abilities to do different types of work properly. You can easily get your required size, length, and width of pieces in just minutes. Place your order now and get one solution for all of your cutting, planning, and molding needs.