With changing times, professional woodworking machinery has taken the place of woodcutting saws. We are now living in an era where woodcutters and carpenters do not have to spend their entire day trying to shape wood. In the current times, the work burden of humans has been reduced greatly. Thanks to the invention of modern woodworking machinery. Now, instead of using old tools for cutting and shaping wood, you can use modern machinery, including vertical moulders, table saws, etc.

To reduce workload and make your work more efficient, it is vital that you invest in high-quality woodworking machinery. This will not only decrease your work time, but it will also increase your level of production. So, are you ready to achieve results in a shorter span of time? V-Hold Woodworking Machinery's Vertical Moulders are all you need. Give this article a read since we will be providing you with some recommendations that nobody told you about!
Why Vertical Moulders?
If we talk about the woodworking industry, the most multi-skilled machine is the vertical moulder machine. Vertical moulders are known for multitasking, such as mouldings, cutting, shaping, engraving, etc. While working with vertical moulders, one should be very careful, as they can be dangerous if not used carefully. Coming in contact with the ejection of tools can cause severe injuries.
Things To Keep In Mind While Choosing Your Woodworking Vertical Moulder
While selecting the machinery, it is important to keep some factors in mind. Let's look at them one by one.
▪
Main Use Of The Machine
All machines are made for specific work; therefore, all of them are designed differently. Some are designed to cut, some to shape, and some to engrave. Before getting one, you should know which machine aligns with your needs.
▪
Accuracy and Precision
People often neglect the exactness and precision of the machine. You should know what percentage of accuracy is required for your needs. Every machine has a different level of precision. Some have high while some have low precision, along with accuracy.
▪
Size and Space Of The Machine
While buying a machine, you should not only be thinking about your present task; you should keep future tasks in mind, too. Make sure to judge the thickness and thinness of the materials you will be working with. After you have done these evaluations, pick the correct size of the machinery according to your needs.
▪
Safety Precautions
Nothing comes above your safety. You should pick a machine that possesses safety features such as blade guards and a kill button, usually known as an e-button or emergency stop button. This will help you prevent yourself and your workers from unnecessary injuries and accidents.
▪
Longer Span and Maintenance
To avoid the unnecessary hassle of maintaining your machines repeatedly, you should look for a machine that is easy to clean and has a longer life span. A durable product will eventually save you time.
▪
Easy Availability of Spare Parts
You should check if the spare parts and replacement parts of the particular machine are readily available in the market. This will save you from unnecessary hassle and time wastage in case of emergencies.
▪
Guarantee and Assurance
For the sake of your mental peace, you should definitely check the assurance granted by the seller. This will not only give you the confidence to buy the machine but will also increase reliability.
V-Hold Woodworking Machinery - Is It Legit?
V-hold is a leading Chinese Woodworking Machinery brand based in Lunjiao town. We, as a woodworking company, conduct thorough research before manufacturing and marketing our products. We provide secure machinery all around the world, keeping our customer's security as our top priority. Our main selling products include double-sided planner, multiple rip saw, four-sided moulders, and multiple rip saw with double-sided planner. When it comes to quality, reliability, and security, V-hold provides its customers with excellent products. Compared to the other sellers in the market, we provide you with machinery that is not heavy on your pocket or your budget and is also environmentally friendly. We have imported tons of automotive precision from advanced countries such as Germany and Japan. V-hold machinery possesses the certification of safety by German TUV. We are also certified by the European Union CE. The title of the "Famous Brand of Guangdong Province" is also under the name of V-hold Machinery.
Products Highlights - Products Available At V-hold Woodworking Machinery
We provide a wide range of woodworking products. Let's discuss a few of them in detail.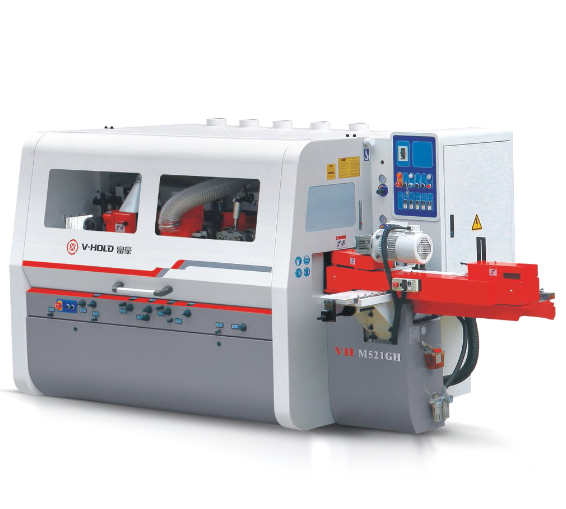 VH-M521GH is a high-speed moulder and is one of the best. Here are a few of its features:
● It has an automatic feeding system. The highest speed that it can reach is almost 60m/min.
● This model diminishes the processing time of the wood and helps you to work efficiently.
● Just like other products, it also helps in lessening the workload and the labor cost.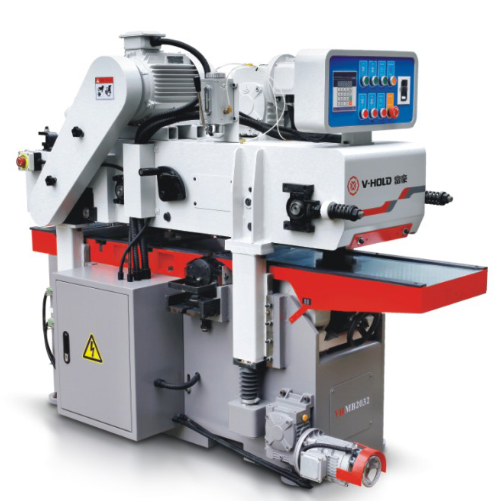 VH-MB2032 is an excellent option for woodworkers. It will not only help you work effectively but also efficiently and quickly.
● This model has an automatic greasing device. This helps keep the machine lubricated while operational to ensure smooth working.
● Just like our previous model, it also has an automatic feeding system with a clutch that will restrict you from overloading.
● This model contains a digital display screen that shows the current meter. This helps in adjusting the thickness.
● It has an alarm system that gives a warning if the machine is overloaded or if stripping occurs in the feeding system.
● You can set the broadness and wideness through its Thickness Quickset.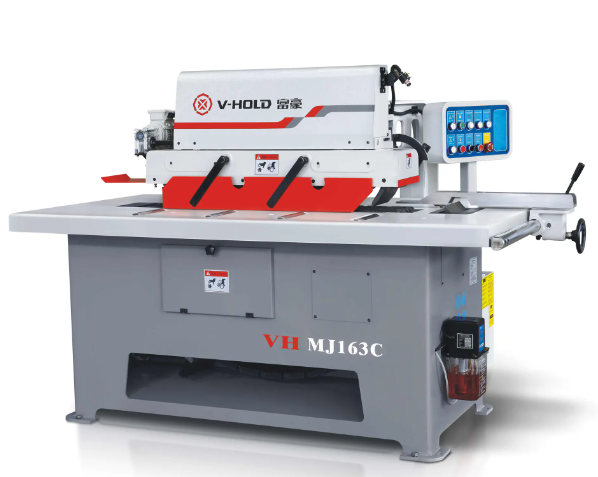 VH-MJ163 is a single/multi-rip saw with the following features:
● This model is highly secured and safe as its blades are present under the safe. This makes the cutting process very safe.
● To ensure the stability of wood, this model contains 8 sets of pressing wheels.
● It also has an automatic greasing device that will help it stay lubricated and greasy.
● To ensure the accuracy of the readings and positions, it contains an accurate lock system.
● Through its double brack feature, it will provide a broader and larger space for the material.
VH-MX21024B is our double-end tenoner, which has the following characteristics:
● It has an automatic cleaning brush that will wipe your dust off automatically.
● Due to its imported PLC, the double-end tenoner works smoothly and quickly.
● Ball screws kind of structure that is present in this model helps it to give perfect adjustments.
● Its feeding speed is up to 6-30m/min.
Conclusion
To sum it up, having high-quality machinery that is reliable, efficient, and secure to use is extremely important. Apart from this, investing in a machine that fulfills your needs and requirements is crucial. So, select the best vertical moulder from our collection and make a call now! Or visit our website for further details. https://www.v-holdmachinery.com/v-hold-4-sided-planer-moulder-vh-m521gh-high-speed-moulder